Documation and UiPath held an RPA Discovery Roadshow on the 25th Floor of The Cube in Birmingham last week to highlight the benefits of robotic process automation.
"Automate repetitive, mundane tasks and free up team members to do more meaningful work"
Attendance was affected by the terrible weather and rail travel issues, but it still proved to be an extremely interesting session.  With attendees from West Midlands Police and from Suez, a waste disposal and recycling company, the organisations couldn't have been more different.  What came out of the open session was that both had similar needs; to automate repetitive, mundane tasks and free up team members to do more meaningful work.
Humans v Robots
The session began with a presentation introducing RPA, and a high-level demonstration of robots in action, alongside a 'human' doing the same work.  It's always great to actually see this side by side – to give a real view of how fast a robot works and how accurate it is when completing the same tasks as a human!
After a break for coffee, we split into two groups to discuss 'real life' processes within each organisation.  There were many examples that were discussed and towards the end of the breakout session it became clear both had a need for RPA and could identify at least 2 processes that could be used as a Proof of Concept.  Both UiPath and Documation RPA experts were on hand in each of these groups to advise, question and guide them to this point.
Roadshow to Rollout 
The process of implementing RPA starts with a identifying a need.  The next step is to meet and work on a couple of processes that are appropriate for a Proof of Concept.  This is an opportunity for a department to showcase RPA completing a simple process within their own organisation.  A video is made of this robot in action for the team members who are advocating the need for RPA to present to the rest of the team or department as a live example.  Up until this point, Documation, in partnership with UiPath offer this service free of charge.  UiPath provide the robots and software to install for the life of the PoC, and Documation will provide the expertise to install and run the robot to complete the task/process identified.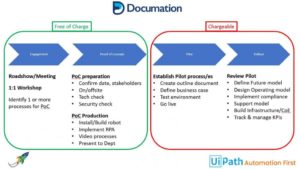 Once the Proof of Concept has been run and approved, it is time to move onto a Pilot project.  This tends to be a more complex process, with more conditions, rules and often using more applications.   This will involve the Projects team from Documation (and in some cases UiPath too) working with the department to build a robot (or two) to start doing actual work within the department.  It is very quick to implement a pilot project and most are up and running within 8 – 12 weeks.
The final stage, following a successful pilot, is the rollout.  RPA is easily scalable, across processes, departments, geographical locations and doesn't require a huge IT resource.  There are various types of implementations, from full in-house development and implementation to a fully managed service. 
Time to think
The roadshows are great places to take some time out of the office and reflect on processes that are arduous and time consuming, and decide whether these processes are candidates for RPA or actually need transforming completely.  Being able to share ideas and brainstorm with other organisations often highlights areas that were perhaps not under consideration at the outset.   RPA can help, not only with the automation of ongoing processes, but also to free up key team members to give them some time to work on total transformation projects, that they can't begin to contemplate whilst bogged down with day to day work.
The morning concluded with a buffet lunch and then a quick roundup Q&A session.   We are really looking forward to working with both these organisations in the future.  If you would like to be invited to attend the next roadshow – register your interest here (no longer available)