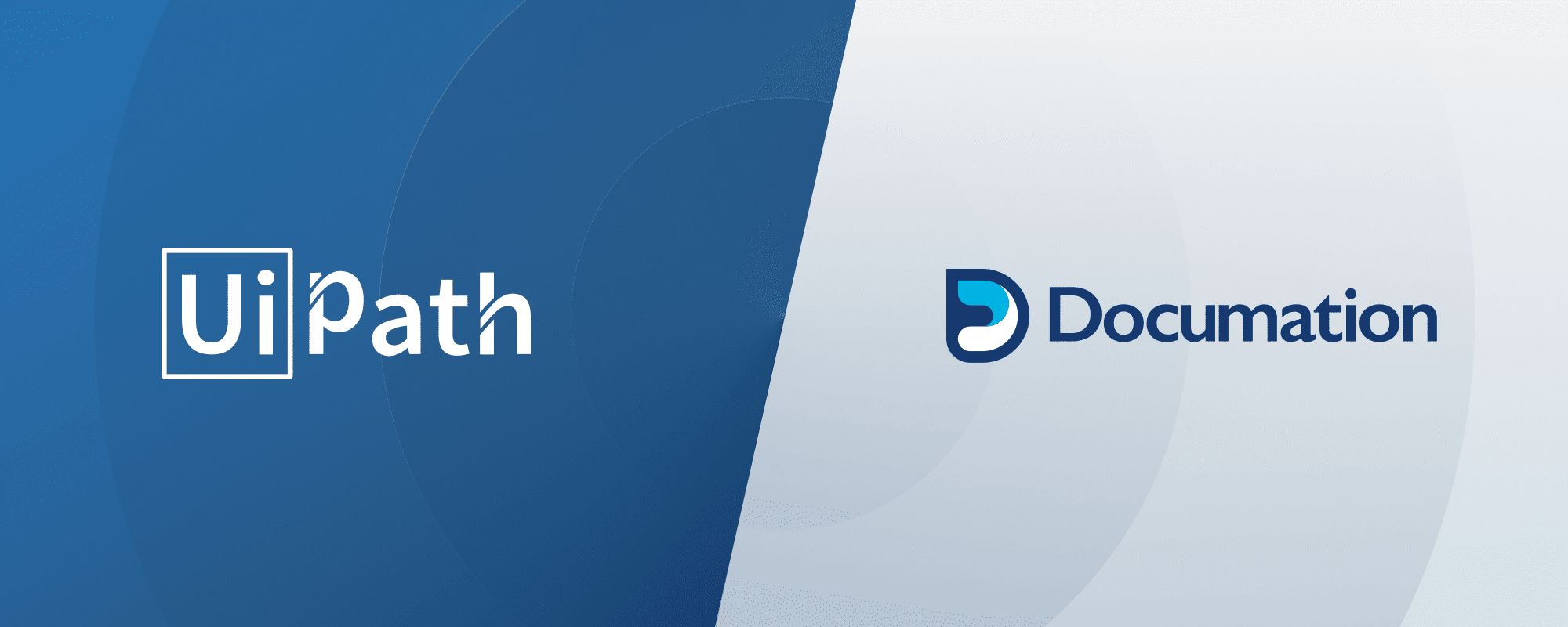 Documation Software, the pioneering Process Automation and Content Management Company, announces that it has established a strategic partnership with UiPath, the leading enterprise Robotic Process Automation (RPA) software company, to enhance and extend Documation's range of Process Automation solutions based on its own BPM and Content Management platform Enable. This partnership will provide Documation's customers with the most powerful combination of tools available to tackle business process opportunities, scaling from automation of repetitive and time consuming procedures right through to full scale transformation of end-to-end processes such as Purchase to Pay, Order to Cash, and Financial Close.
To gain market advantage in today's highly competitive landscape, organisations are increasingly seeking solutions to help them expedite operational processes, increase agility and deliver greater value to customers. By partnering with UiPath, Documation will enable clients to complete routine tasks with optimal agility. By delegating these processes to a virtual digital workforce of software robots, company employees will be able to focus on more strategic, creative and customer-facing initiatives.
John Wallace, CEO of Documation, said: "UiPath is the perfect complement to our own Enable BPM platform. Enable BPM provides powerful and comprehensive workflow for re-engineering business processes – replacing complex repetitive tasks such as Invoice Matching with AI driven server-based automation and providing streamlined interfaces for humans to handle the exceptions. Enable is a tool for transforming business processes for maximum efficiency and value. But no matter how much process transformation is achieved, there will still be gaps between processes for example, re-keying information from one application to another, logging into customer or supplier portals to gather information, or updating from Excel spreadsheets. UiPath is the ideal tool for filling those gaps and more. Together Documation and UiPath will provide customers the agility and flexibility to automate both rapidly and deeply with the right tools to hand for every situation."
"We welcome Documation into our stellar ecosystem of partners that are instrumental for our joint customers to accelerate their digital transformation initiatives. This partnership will see powerful automation and AI tools at work for better business outcomes," said Anand Nagwani, VP of Partnerships EMEA at UiPath.
More information on UiPath can be found here.
About UiPath
UiPath is leading the "Automation First" era – championing one robot for every person, delivering free and open training and collaboration and enabling robots to learn new skills through AI and machine learning.  Led by a commitment to bring digital era skills to more than a million people, the company's enterprise Robotic Process Automation (RPA) platform has already automated millions of repetitive, mind-numbing tasks for business and government organizations all over the world, improving productivity, customer experience and employee job satisfaction.
Recently named the 6th happiest place to work by Comparably in the US, UiPath has become one of the fastest growing enterprise software companies in history. The company is backed by over $400 million in funding from Accel, CapitalG, Credo Ventures, Earlybird's Digital East Fund, IVP, Kleiner Perkins, Madrona Venture Group, Meritech Capital, Seedcamp and Sequoia.