We were asked to contribute to the AP Annual Update for the Accounts Payable Association on Tuesday 21st April.  It was a pilot event in more ways than one!
Firstly it is the first AP Annual Update designed for Senior AP/P2P leaders who want to be kept up to date on any legislation updates affecting the industry as well as keeping up to date with best practices.  The course programme covered the latest legislation, industry best practices and proposals for changing the latest in technology and industry hot topics.
Secondly, the event was planned as a live event, but in light of the current restrictions due to COVID19, it was held virtually.
The Guest speakers included Rebecca Howard from ADR speaking on AP Project Management, and Mary Schaeffer from AP Now on Global Fraud, along with Jamie from the Accounts Payable Association compèring and asking questions throughout.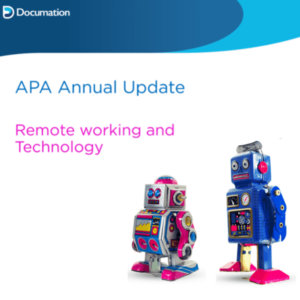 We were asked to talk about technology.  A very broad subject that we fine-tuned to Communications and Automations when remote working.  We covered video conferencing, emails (and how to spot the fraudulent ones!) gave advice on security measures when working from home and then turned to automation.  Interestingly only 43% of the audience had AP Automation Solutions.
For those with automation, particularly those with NoPO NoPay, the process of moving from the office to remote working should not have been too onerous.  Once the initial connectivity issues have been covered the processes should continue as normal.   We were speaking to a customer last week who said they were so pleased that had a Documation automation solution because it had enabled them to continue to raise purchase requests and process electronic invoices as normal even though they are having to work from home.
Our presentation also highlighted the 'extras' that are being offered by solution providers to help manage and control elements of the P2P process, such as;
Supplier Portal
Never before has this been so important!  With the ability to onboard, check and manage all supplier details, allow suppliers to submit and follow the progress of their invoices and give a platform for discount and early payment communications means a reduction in calls and emails to the AP team, better compliance and fewer duplicates/incorrect/fraudulent invoices.
Data Analytics
With the addition of a data analytics suite to your automation solution, you can track and report in real-time from a dashboard for a quick view and as a report.   Reviewing the data during and after a complete change in your work environment, such as we are in now, means you monitor the effects of remote working and compare it to a similar period before.  Drilling down into this information to show statistics on touchless processing, throughput, match failures and more etc. will help you identify any new areas of concern, or perhaps improvement, since the social distancing restrictions have been put in place.  It can also help identify new areas of the business that may be affected, such as receipting of goods, or particular suppliers that are not providing the required information due to lack of resources or access to the relevant records.  HMRC payment performance reports are a breeze with this information to hand and identifying bottlenecks and resolving them means you can be iterative and continue improving your AP processes.
Statement Matching
These are often thought of as a nice to have and more often pushed to the bottom of the in-tray, but are an essential part of the AP team's workload. These solutions allow you to upload your supplier statement and perform auto reconciliations against supplier invoices, credit notes and payments, removing the need for excel spreadsheets and exports from your finance system.
RPA
Understanding RPA and what it means, and how it could help if the first hurdle.  Don't think of it as a separate technology, more as an added team member.  Robotic process automation mimics human actions.  It can do this unattended or with human assistance, either way, it's not a process transformation like your automation solution or ERP, it's a copy of human but that doesn't make mistakes and can work 8x faster!
Overall, it was a great day, full of insightful information, useful links and tips and brilliantly hosted by the APA. It was rounded off with a motivational talk from Brad Burton, leaving everyone inspired to continue working in whatever environment they find themselves in!
Watch out for the APA's next big event, AP Appreciation week in May – We will be there and hope you will too.
If you would like any information on any of the topics we have mentioned in this news update please get in touch.