Our Senior Solutions Consultant, Nick White got in touch to let us know about his son George's efforts with 3D printing to help the NHS,
George, aged 13, tells his story in his own words!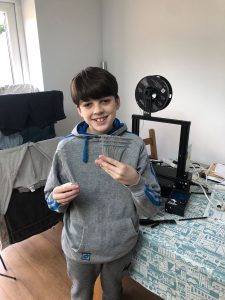 I've wanted a 3D Printer for ages, after I saw online the things that people can create with them. I saved up my money through the pocket money jobs I do round the house until I had enough to buy one.
Once I got the printer it took me and my dad almost a whole day to put it together – the instructions were in Chinese so we had to use online tutorials on YouTube to figure out how it all fitted together.
My first 3D print was a dog which is one of the test prints which they provided with the printer. It was really cool watching the code become a physical object that you could pick up.
I use an application called Blender to create my own designs, and this software allows me to turn my designs into code which the 3D printer can translate into a printed object.
At first I printed things like a Tardis for my uncle (who loves Doctor Who) and a Japanese cartoon character called Totoro for my Dad (who works at Documation and is a massive geek)
.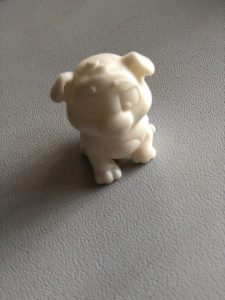 Then I saw on a 3D printing Facebook group that some people were using their 3D printers to create things which were useful to the NHS heroes who are caring for the COVID-19 victims. I spoke to my mum's best friend Karen who is a nurse at Basingstoke hospital and she said that some ear savers, which stop the face masks they need to wear from rubbing on their ears, would be really great.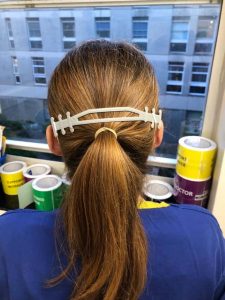 I found a design online for the ear savers and then updated this in Blender so that I could print lots at once. It's quite a simple design so it actually only takes about an hour to print seven.
I took the printed ear savers to our friend Karen and she sent me this photo of her using one on the ward. I feel really happy that they worked and that I was able to help the nurses in the NHS a little bit.
What a great effort from George.  The whole team at Documation really are a #DocumationFamily – The Human Touch !