This has been a busy month for the Documation Team
Nick White, our Senior Solutions Consultant and Dan Wilmot, Graduate Professional Services Consultant, joined forces and made up part of a team for the Judgement Day Christmas Team Challenge.  It's an extreme 10 mile run and navigation challenge with various obstacles along the way with a few tasks thrown into the mix, all in the beautiful landscape of the South Downs!   To make things a little more interesting the race was fancy dress.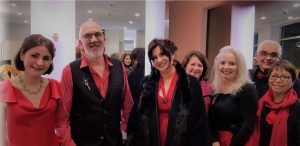 Nick's team competed as characters from the 1980's video game 'Street Fighter'   At the start of the race the team are given a sandbag which they have to carry around the whole course!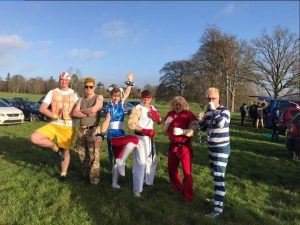 Tasks included a shooting range challenge! Very fitting for our 'Street Fighters'!   Well done to all that took part.
Other news from the Documation team is from our CEO John Wallace.  He assembled a small choir on Saturday 8th December to sing as a charity fundraising event at a private concert for clients of Guy Kremer, Winchester's Celebrity Hairdresser – for one night only they were the 'Parchment street singers'.  They sang a selection of Christmas songs and carols as the warmup act for opera singers Claire Rutter and Paulo Ferreira, and joining them for the finale, 'Feliz Navidad'.
Claire Rutter and Paulo Ferreira are currently in Winchester performing at the 'Star Shine: an evening with the stars Christmas Carol Concert at Winchester Cathedral.
"It was a lovely evening and amazing experience in an unusual concert venue (Guy's salon!)." said John 'a great evening of fun and singing!'