#TinTuesdays enabling the Meon Valley to donate from home
Our support analyst, Anna and her husband Rob have developed an App to enable donations in the Meon Valley to foodbanks during lockdown.
Hear from Anna how it works …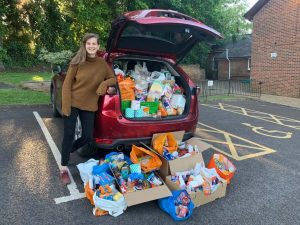 In the current climate, we were worried about foodbanks not receiving enough food. We had heard of local foodbanks having to close due to lack of donations, and volunteers. As we are all in lock down and unable to get out as much or as easily now, we wanted to develop a way to make donating to foodbanks locally as simple as possible.
Where my husband and I both work in tech, we developed an application to enable people to donate from home, on a Tuesday. Every Tuesday, the people signed up leave their donations on their doorstep, we collect them, and take them to the foodbanks that need them.
We have been overwhelmed by people's generosity. Each week we have had at least a car full of food. People are coming together with their road, to collect in single donation points for us. We have met so many wonderful people and have seen the incredible help that foodbanks provide locally.