Look Again – the theme for our AGM and team building event on 17th September 2021
We needed an unusual venue for our AGM and team building event.  On my first visit to the Palais des Vaches I knew it ticked all the boxes required. 
On arrival there is a sense of excitement as you headed down a long gravel track with discreet sign posting.  It seems, on arrival, you have come to stop at a large farmyard, with a difference. 
With plenty of parking and a beautiful wrought iron gate into the Courtyard you enter the Palais des Vaches,.  A a huge main hall, (old milking parlour) hung with awe inspiring contemporary art and sculptures – you are transported far from the dusty track you arrived on!  The main hall leads through to a smaller space, and the gallery of art continues throughout the building.  The whole space surrounds a beautiful courtyard which was perfect for our al fresco breakfast and lunch.  The band set up in the early evening, the firepit was roaring and the food and wine continued to flow.  The kitchen is ready for caterers to use, and is well equipped with all the usual appliances. We were looked after by Nags Head Bar and Kitchen, a local company providing locally sourced ingredients and delivering delicious food from bacon baps for breakfast, a buffet lunch and street food in the evening.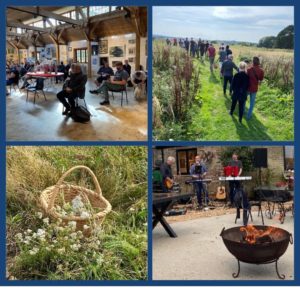 We made use of the meadow and walk to the river with a foraging expedition arranged by Patchlarks, a great way to make the most of this stunning location on the Beaulieu river bank. 
I cannot recommend the Palais des Vaches enough, the hosts, Nick and Caroline de Rothschild, could not have been more accommodating – everything we asked for and more was catered for.   If you are looking for a venue for a Corporate event with a difference then this is the place for you!   
A note from our CEO, John Wallace
The Palais De Vaches was the perfect venue for our AGM this year. The art gallery was an inspiring setting for keynote speeches, the courtyard perfect for alfresco coffee, lunch and a relaxed evening of music, chat and street food. Having the meadow with its beautiful rover views available for foraging was the icing on the cake. The whole setting fitted perfectly with our 'Look Again' theme – there was a lot to look again at! Our team had a wonderful day and came away feel rested and inspired. Perfect! Many thanks to our hosts Nick and Caroline for such a warm welcome and for creating such a lovely venue.