Restrictions have now been lifted throughout the UK and business travel is very much back on. With many returning to the office full time and others adopting a hybrid work model, processing expense claims, which had been reduced to a minimum, are now back with a vengeance.
Looking at a survey that was published in 2019, the last year that business travel and expense was not limited by the global pandemic, shows some interesting insights into the case for automation with expense management software.
According to the survey, 43% of companies questioned use manual processes to manage expenses.
Forrester research has also cited that expense management is the 2nd most challenging business operational cost to control. With increasing inflation and cost of living, energy price hikes and the increase in the cost of borrowing, understanding and controlling business costs is top of the list for many organisations.
Key Pain Points
---
Compliance
There are multiple challenges with expense management, one of which is compliance. Having a clear travel and expenses policy which is understood by all team members, both claimants and approvers, is essential, however in the survey, only 72% of companies have a formal expense policy in place and of these, 58% report that the understanding of that policy is 'at best decent, but in need of improvement'.
The work involved in manually creating, monitoring, approving and enforcing policy compliance is arduous and time-consuming.
Paperwork & Receipt
One of the biggest pain points is the loss of supporting paperwork and receipts. In a digital world where paper is becoming obsolete the process of attaching physical receipts to a claim is archaic. More than half of the organisations report that loss of paper receipts or claims submitted without supporting documents means vital time is wasted in processing.
Deadlines
Employees failing to submit expenses on time or managers not approving by strict deadlines causes issues with processing and a knock-on effect to expenses reimbursements and reporting.
Reconciling, reviewing and approving
Reconciling, reviewing and approving expenses claims by managers and finance teams is a huge time waster too. Errors in expenses reporting with incorrect codes, payment amounts, particularly with re-chargeable expenses, often mean checking and re-checking each claim to ensure expenses can be reconciled, reported on and recharged appropriately. If an organisation doesn't have an expense management solution they are open to fraudulent claims, uncontrollable and unmeasurable processing costs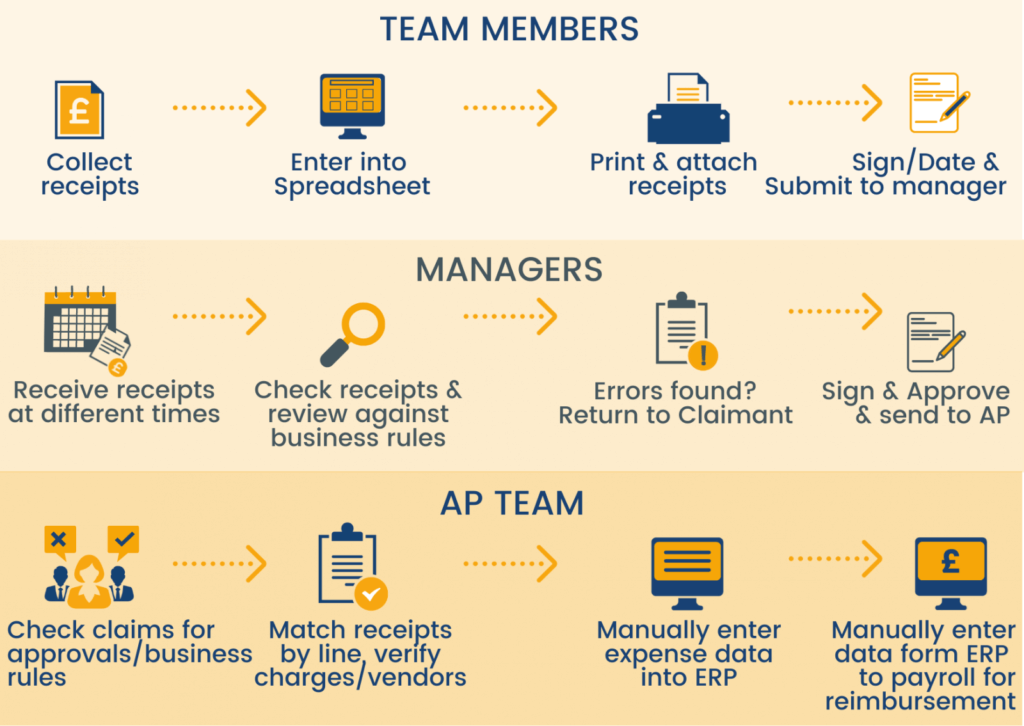 The same process with expense management software shows the touch points hugely reduced, making less room for error, with full visibility of the claim from start to finish. Because the business rules are embedded into the expense management software, there is no duplication, manual inputting is a thing of the past and real time reporting by cost centre, team member, line item and more, is available at any stage of the process, week, month or year.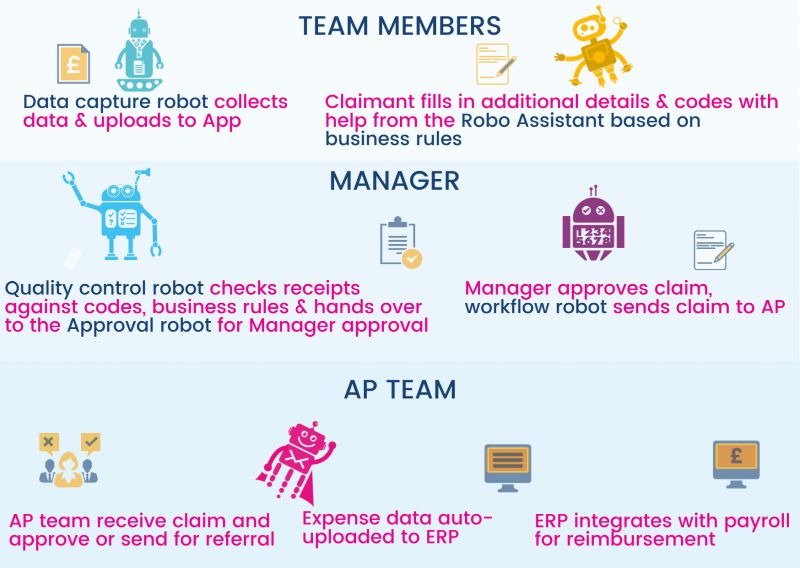 The analysis of the survey responses identifies that technology can address the main causes of inefficiencies around expense processing. The top pressures that could be solved by automation were as follows:
Poor visibility
Lack of control of spending
Frequent incidence of non compliant claims
Need to reduce claim processing costs
Poor visibility
Workflows and dashboards within a solution give the AP team, approvers and claimants full visibility of where the claim is in the process at any given time. Expense management software that offers a mobile app mean this information not only can be accessed, but also actioned 'on the go'
Lack of control of spending
Real time reporting means that control of spend can be reported on at any time. Spending policies can be embedded in the expense management software for access by the claimant.
Frequent incidence on non-compliant claims
With inbuilt business rules non complaint claims are impossible to make, fraud checking is embedded into the expense management software and ensures that all reimbursements are valid and in line with company policies
Reduction in claim processing costs.
Because all the manual data inputting is removed, the claimants and the AP team are free to complete value added tasks. Real time reporting is simple and monthly costs can be entered into business forecasts and VAT reporting and recovery. These insights into expense spend improve working capital management for the overall business, with chargeable expense spend invoiced to customers in a timely manner, further improving cashflow.
To ensure that ROI is achieved on the investment of expense management software, it is important to understand what the technology offers in terms of integrations with existing business systems and accessibility for claimants and approvers.
From the points picked up earlier in this report, simplicity of use is the key driver for automation, making claims quick and easy to create accurately.
Mobile receipt capture and claim creation and approval is the first step, but equally important is the ability to import credit card charge/statements allowing the expense management software to automatically code expenses, and the claimant to attach digitally captured receipts.
To get the full benefits of straight through processing from claim creation to reimbursement the expense management software needs to integrate with other business systems too, particularly the finance and HR systems. This means the AP team no longer manually code expense claims, reducing errors and speeding up month end closing processes. Having payroll integrations too mean that claimants can be reimbursed quickly and efficiently.
A summary of the key takeaways are as follows:
Businesses that decide to invest in an expense management software will see an ROI within 2 years.
Businesses should look for a technology stack that that includes mobile claim creation and approval enabling straight through processing.
Businesses that do not understand the challenges in effective expense management should map out the process and touch points involved in creating a claim to get an idea of estimated costs, areas of inefficiencies, risk exposures etc
Technology integration is a must; integrating with the business's finance systems and credit card providers is key.
If you would like more information on how Documation's Expense Management software can help your business download our datasheet here.