Enterprise resource planning (ERP) is software used by organisations to manage day to day business activities such as accounting, procurement, risk assessment, project management, human resources and more. A complete ERP suite also includes performance management that helps plan, budget, forecast and report on an organisation's financial position and results. This blog puts particular focus on the finance elements of this software. ERPs are often described as the ultimate single source of truth and therefore data integrity is essential.
Integrate
Integrating an accounts payable solution is an important step to digital transformation.  But there are many pitfalls to navigate when deciding on the right solution.
Legacy AP solutions often 'integrate' through a manual CSV export/import. This sends data from the AP solution to the ERP in the form of a flat file that lacks the bi-directional communication that ensures that only 'good data' is transferred.
Many ERPs offer features that AP automation solutions provide, but these are often clunky or require time consuming and expensive project consultancy to customise them for best use within the organisation.
It's important to ensure that that the AP automation solution is best of breed, designed and optimised to fully integrate with the organisation's ERP (preferably with case study history)
Work with an AP automation solution that provides intelligent data capture with real time, seamless integration.  Find a solution that provides 3 way matching, query exception workflow, embedded business rules and compliance, and that makes the most of new technologies such as machine learning and Ai.  This is when true digital transformation starts to have beneficial effects on the business.
When considering how the data transfer will occur between the organisation's ERP and the accounts payable automation solution there is a league table of options.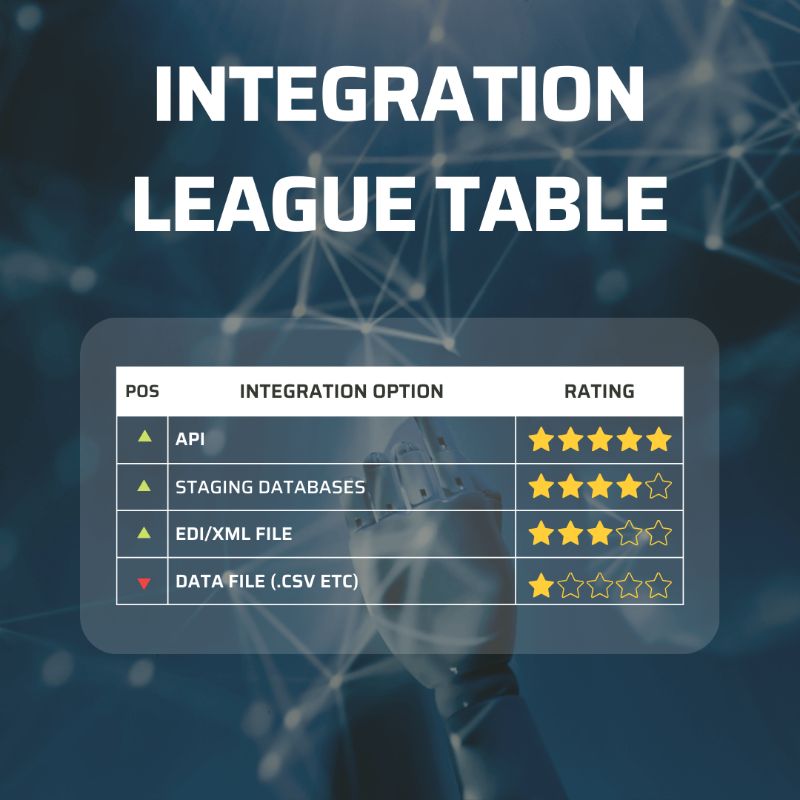 API is the clear leader, closely followed by the EDI/XML file and staging databases. All these methods offer real time (or near real time) integration, giving the AP team a clear vision of processes, suppliers and cashflow at any time.
Deciding on an AP Automation solution for your organisation requires business users, budget holders and stakeholders all working together for a similar goal.
---
---
Making the 'essentials' feature list and then the 'nice to haves' is a good place to start, with seamless, robust ERP integration, and proven track record of success, at the top of the list. Another feature to consider is built in business rules and compliance. This means changes in process can be managed by the AP team rather than an IT request for a whole ERP update. And similarly, business continuity is maintained by keeping AP processing stable through IT landscape changes that all organisations undergo, even potentially changing ERP.
Agile deployment is sometimes overlooked. But this feature can mean that the staged go-lives allow all the team to be trained and the wider business can take time to adopt the process changes required.
For organisations with multiple ERPs, the focus is often to consolidate these ERPs to one system.  This is a hugely costly and time consuming process often taking 3-5 years and sucking up resources (both people and financial) that are needed for the day to day running of the business.  Having a central AP automation solution that integrates with all the ERPs within the organisation giving a central view for the AP team means there is a single source of truth for process visibility across all ERPS. 
The benefits are:
Increased efficiency. Team members no longer need to key information on approved invoices into an ERP or waste time switching between systems trying to find information. Fewer errors occur in manual inputting due to real time validation through the synchronization of all ERPs and the AP automation solution
Enhanced visibility. Data is delivered downstream faster, and with less chance of errors and is available for internal/external audit immediately.
Streamlined compliance. Automating the entire cycle ensures consistent, systematic compliance with established policies and procedures.
Faster Payments. By automating the processes, invoices can be posted to the ERP in a touchless process making them 'approved for payment' within minutes of arriving. This means the business can take advantage of early payment discounts from suppliers.
Greater scalability. Fewer manual processes mean the whole business can efficiently scale.
If you are considering integrating a next-gen accounts payable solution, but have some questions, why not join our LinkedIn Live Q&A Session on 30th March at 11am and discover how Agrovista integrated a Documation AP Automation Solution with their ERP.