Back office processes generally involve team members from the wider business, whether it's creating a purchase order, ordering direct with no PO, approving an invoice, or requesting reports, they all have a knock-on effect on the finance teams' time.
Add to the mix suppliers phoning to find out if their invoices have been received, are on a payment run, or are in dispute, it all adds up.
So what can be done? How can your Finance team have full visibility of your purchase to pay processes?
Want full visibility of your purchase to pay processes? Automation is the answer.
A Purchase to Pay automation solution gives full visibility of your purchase to pay processes from the point of requesting an order right through to the invoice being posted on the finance system for payment. This often requires a large digital transformation which can be time-consuming in the planning and implementation involving many stakeholders. Innovation in technology and hosting now means this can be an agile implementation solving the bottlenecks that are causing the most pain first and embedding new automation processes before moving on.
In the following example, a customer approached us with exactly this issue. Lost documents around the business, time wasted chasing invoice approvals, and unable to answer supplier payment questions.
Their biggest bottleneck was approvals. All invoices required a signature and, due to the landscape of the business, some of the approvers were based in offices around the country. The process required data entry of the pdf invoice, copying and filing of to a shared folder, emailing the approver to notify them that a signature was needed, retrieval by the approver who then signed, renamed and refiled the pdf to be picked up by the AP team for manually coding and posting.
So what did we do?
We listened and helped them develop a plan, with short term wins whilst keeping the long-term goal in mind.
The most pressing problem was getting visibility of invoices at all stages of the journey from receipt to payment. We implemented intelligent capture to get invoice data from pdf into our solution, without the need for any manual processing. Then using embedded Ai, invoices were matched and approved, (chased and escalated via auto emails if not completed by a deadline set in the business rules). Once approved, invoices were automatically posted to the finance system. At every stage of the journey, the invoice is viewable. The journey is fully audited too, so every touch of the document is recorded.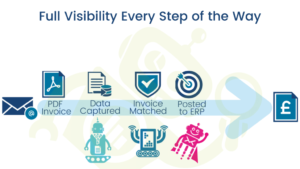 Documation's software robots have embedded Ai and machine learning that enable them to continually improve processes, allowing more time for value-added tasks by the finance team.
It's important to remember that humans have an important role in these processes, but with the robot's help the manual, time-consuming tasks will become a thing of the past and leave humans to do what they do best; communicate, empathise and innovate.
Get in touch to find out how Documation's software robots can give you full visibility of your purchase to pay processes