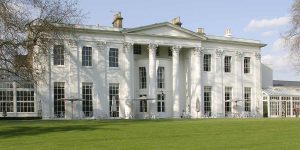 On 11th June, as a premium partner of the Purchase to Pay Network, the Documation team will be exhibiting at the annual Transformation Summit 2019.
The event is being held at The Hurlingham Club, Fulham.  A breathtaking venue that borders the Thames and is globally recognised as one of Britain's greatest private member's sports clubs.
The day promises to be a great opportunity for finance professionals to network and learn about the latest trends in P2P. Hosting a fantastic lineup of expert speakers, breakout sessions and panel discussions throughout the day, the event culminates with the highly anticipated PPN Awards 2019 Ceremony.
We will be sponsoring the plenary speaker Kate O'Neill's talk on the '10 Fundamental Insights about the Tech-Driven Future for Humanity.' We're very excited to be working with Kate at the Summit, she is hugely influential in the world of Ai and Robotics. Her latest book, 'Tech Humanist,' explores the importance of human-centric digital transformation, an ever increasing topic for P2P teams with the implementation of automation systems.
Documation is hosting the BBQ lunch provided in the stunning grounds of the club. This will be a great opportunity to network with peers and exhibitors whilst enjoying a complimentary lunch.
The culmination of the day are the nationally recognised PPN Awards 2019, where we are proud to be sponsoring the category for 'Outstanding Contribution to P2P of the Year'.  This is awarded to the individual that has made a performance-enhancing business change to the P2P department, regardless of their title. Recognising P2P team members that drive digital transformation and process improvement within their finance team is an important part of a successful partnership between us and our customers, so we are delighted to be able to acknowledge these professionals for their work by sponsoring this award.
You can still propose a team member/colleague for this award, so if you know someone who fits the bill, nominate them here.
John Wallace, CEO, Dave Bradshaw, Customer Account Manager, and Julia Stovold, Senior Marketing Executive will all be on our stand throughout the day, why not pop by and chat with them about all things automation.
If you would like to book a demo, or find out more information about future workshops and events we are involved in, come and see us. Don't forget to leave your business card to be entered into our prize draw for a Paperwhite Kindle!
If you haven't registered for this great event yet register now.