A day in the life of Alan Farrell and Nick White … the problem solvers!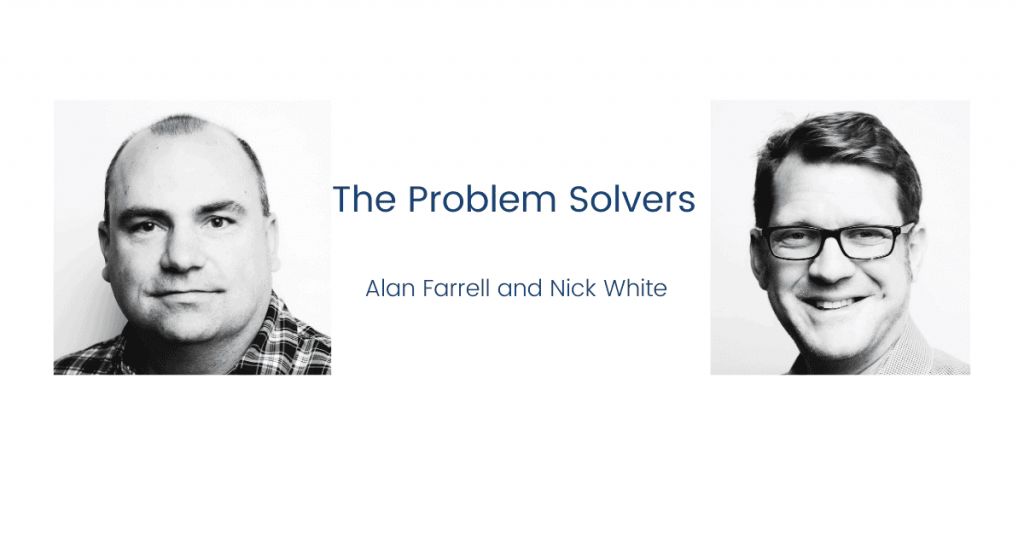 When Alan Farrell, and Nick White work together, they are a force to be reckoned with!  They are known for their dynamic and energetic attitude both in Documation and in life!  I joined them on the road for a meeting with a prospective new customer, or Partner, as we like to refer to them, and wow, what a duo these guys are!
We met at the hotel and after an early session in the gym and pool we had a light breakfast and catch up on the day.  We then set off in 2 cars to our destination.  Diversions abounded and Nick and I decided on a 'shortcut' that the SatNav (humans v automation!!) had not discovered and met Alan in the Customers' carpark.
The meeting was more of a workshop, and typical of the kind of format we use with our customers. It's about listening to the pain points and being Problem Solvers. Because, in a nutshell, that's what automation does – it solves problems. But it is only effective if implemented in an intelligent, innovative and thoughtful way, and that part needs to be discovered by humans. At Documation we have 2 solutions to workflow problems … software solutions (Enable platform) and human solutions (Alan and his team). Only when these work together do we become true Problem Solvers!
Software Solutions and Human Solutions in Practice
This meeting was one of a series we had attended with this Customer.  They were going through a period of change as a company and we wanted to make sure we were up to speed on any new developments that had occurred since our last meeting, that the key targets and goals for automation were the same, and that overall strategy for all the stakeholders was intact.
Nick gave a run through of the solution to recap, adding in all the extra (nice to haves) that the customer had identified since our last visit.  Nick's technical skill and in depth knowledge of the solutions meant that he could go 'off piste' at any time and respond to the technical questions and challenges from the room.  There was a group of 4 stakeholders, including the AP manager, and IT manager.  The nodding and sounds of approval were overwhelming as Nick ran through the workflow.  Alan worked with Nick, continually clarifying with the customer that we were covering all the pain points they had identified and asking interrogative questions to try and pull out all the 'What ifs?'  Making sure the quick wins had been identified, and pointing out where the maximum return was for their investment.
The conclusion of the meeting was a short demonstration of our new Power BI and Expenses solutions … which then started a whole new conversation!  There was a great amount of appreciation and excitement for the Payment Performance report, which supplies all the information needed to support the new Government mandate on prompt payment reporting. The AP manager had spent hours (days!) collating the information for this report with their current system, this is not the first customer we have met with that has experienced this problem!  So again, Alan and Nick, the Problem Solvers strike again!
If you would like to have your problems solved, then get in touch and Alan and Nick will be along with their solution toolkit in no time!