In record time and in the midst of the COVID Pandemic Documation is audited and attains the ISO27001 Information Security Management Certification to bring peace of mind to both their Customers and Team Members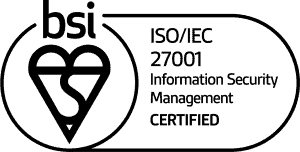 Documation Software, the pioneering Process Automation and Content Management company, today announced it has received the ISO 27001 certification for Information Security Management.    Internationally recognised, the ISO/IEC 27001 is an excellent framework which helps organisations manage and protect their information assets so that they and their customers remain safe and secure. In addition to requiring a level of information security at first certification, annual audits ensure that the principle of continuous improvement, which Is central to the standard, is adhered to. The ISO regime instils and measures security, not only for today, but also for the future.
The process, which usually takes up to 18 months was started in January 2020 and Documation was the first client of the BSI to have its stage 2 audit remotely due to COVID working restrictions.  This made the process more challenging, but due to the dedication of the Information Security Management evangelists, and the hard work and co-operation of the whole of the Documation team, they sailed through the process with flying colours.
Partnership with customers based on trust is central to the Documation philosophy and this certification will confirm the confidence customers have in the company by providing an answer to questions of Information Security. In a statement from the British Standards Industry they found that of the Companies that achieved this certification 75% stated a reduction in business risk,  80%  noted an increase in business trust and 71% felt their businesses were better protected.
John Wallace, CEO said, "Organisations are increasingly seeking suppliers that have a stringent Information Security Management System (ISMS) in place and the certification of ISO27001 proves without doubt that our solutions, storage and business practice are secure and protected, not just now, but into the future through an inbuilt system of reviews and action plans.  Attaining this certification justifies our customers confidence in us and at the same time ensures that our already rigorous business processes continuously improve to deal with Information Security challenges as they evolve in future.
For more information on ISO27001 click here