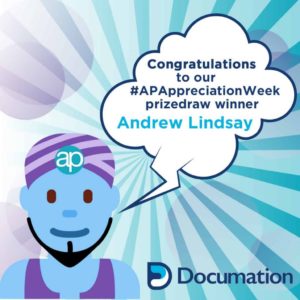 As a Premium Partner of the Accounts Payable Association (APA), to help celebrate the week-long appreciation of Accounts Payable professionals, we ran a prize draw for tickets to see the new Disney's Aladdin film in Cinemas for one lucky winner. To win, AP team members had to submit their 3 automation wishes to the APA Genie.
We had lots of entries from AP Ninjas which started great conversations about the needs and wants of finance departments across the country.
But, there could only be one winner.
Congratulations to Andrew Lindsay, Team Leader, Accounts Payable at Carnival UK for winning this amazing prize.
These are his 3 AP wishes:

If you would like to still let us know your AP wishes please feel free to get in touch with a member of the team. You never know it may come true.